Jan 22

2020
Venice: Carnival 2020
There is always a reason anytime of the year to visit Italy for a vacation. This time the good reason is the Carnival in Venice.
---
There is always a reason any time of the year to visit Italy for a vacation. This time the good reason is the Carnival in Venice.
During the last days of February Carnival will be celebrated with large float parades, sumptuous shows and masks
The Venice 2020 Carnival will take place from 8th to 25th February and the title of this year's edition is: "Life is a game of madness in which the heart is always right", inspired by a phrase by Erasmus of Rotterdam. Carnival will revolve around the theme of love declined together with the game and a pinch of madness.
In particular, on Saturday 8th February 2020 the show of aquatic images and music will officially open the Venice Carnival on the Rio di Cannaregio with the show "Amoris Causa", honour to the wisest of follies. Rio di Cannaregio will turn into a real water stage with a show that enchants thousands of spectators every year, where floating structures transfer the theme of the Carnival "The Game, Love and Madness" to water. A journey into feelings and emotions that will warm spectators' bodies and souls. In 2020, in fact, Fat Thursday will be February 20th and Fat Tuesday, the last day of Carnival, will be February 25th. Following the Ambrosian calendar, the conclusion of the celebrations will be Saturday 29th February (2020 is in fact leap). The parades of the allegorical floats and the events in the main cities of the Carnival will begin earlier, on the first weekend of February.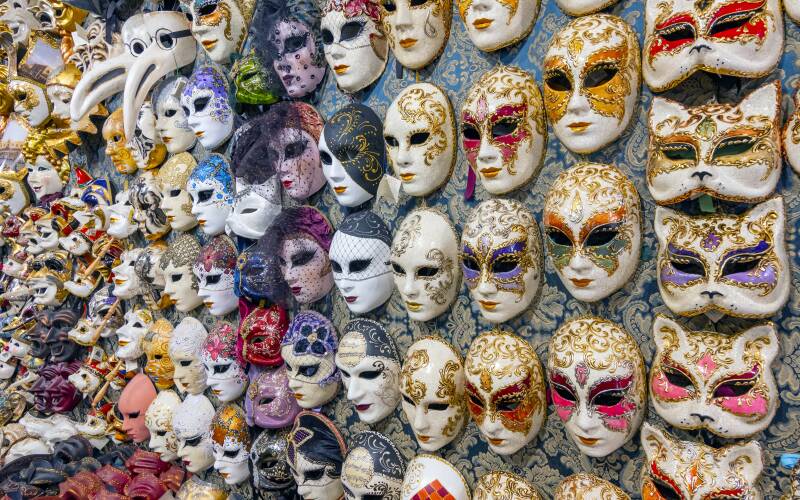 There are over 150 events scheduled, 50 initiatives for children and teenagers, and many cultural events with the participation of over 300 artists between the historic centre and the mainland. There will also be something new such as a surprise appointment scheduled in San Marco square on Valentine's Day, the feast of lovers that this year falls during the Carnival period.
Sunday, February 16th at 12.00, in San Marco square, the appointment with the traditional Flight of the Angel, which will open the celebrations in the square.
The competition for the Most Beautiful Mask will also return, with the parades in Piazza San Marco. The election of the Most Beautiful Mask of the Firmament of 2020 Carnival will be held on Sunday 23rd February from 2.30 PM.
In short, there are many parties and shows for everyone, adults and children, people masked or not, accompanied by gala dinners and exclusive private parties.