Jan 29

2021
Byzantine influences in Ravenna, the jewel of Italy and Unesco
If you visit Italy for the second or third time, it is really worth discovering Ravenna, where you can find culture, relaxation and amusement.
---
Ravenna is a seaside resort with 29 kilometers of coastline and a lively harbor. The city is well known for being the capital of mosaics, so much that is was included in the list of UNESCO (World Heritage List) for its various Christian religious monuments scattered in different areas, which have an extraordinary historical and artistic importance.
Since the capital of the Western Roman Empire was moved from Milan to Ravenna in 401 AD, due to the fact that the Emperor Honorius wanted to move to a more safe place, the city abandoned the provincial aspect in order to become a sumptuous residence. Since then Ravenna was elected as capital twice: the Kingdom of the Ostrogoth and then the Byzantine Empire.
UNESCO lists even eight monuments that have allowed Ravenna to portray this recognition. One of these is the Masuoleum of Galla Placida, most likely built in the fifth century, by an empress who wanted to built a family tomb with rich, mosaic complex with classical style.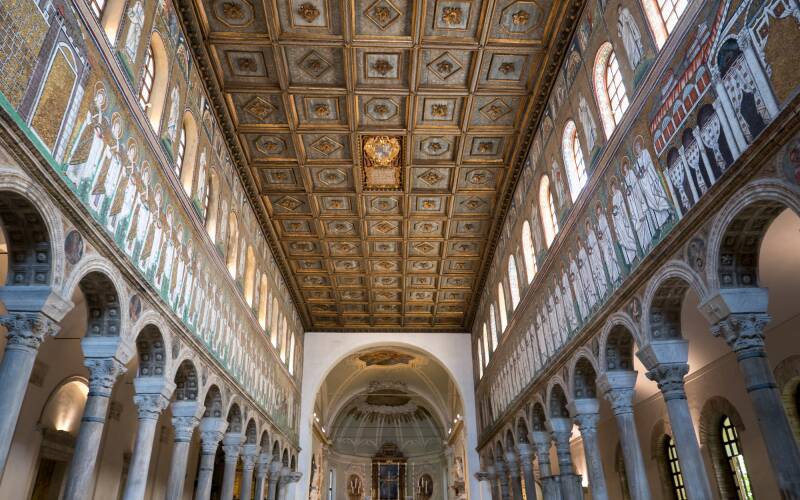 The variety of colors ranging from blue peacock, orange, green moss and even gold, make the harmony of the work even more striking. The Neonian, also called the Orthodox Baptistery, is another famous masterpiece, followed by no less fascinating Mausoleum of Theodoric.
A huge monolith of 300 tons together with large stone blocks of Istria cover the Baptistery of the Orthodox, around the fifth century. The building impresses with polychrome decoration of the mosaics which cover the dome.
Another magnificent dome is the one of the Arian Baptistery, built by Theodoric for the Arian cult in Italy.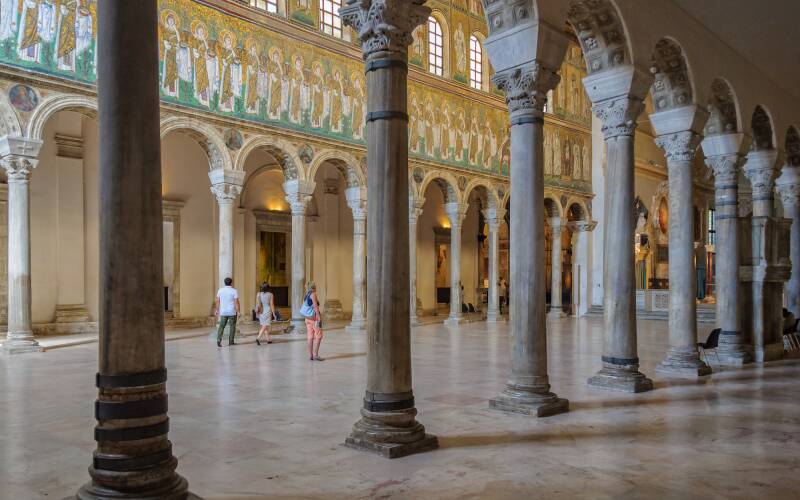 The list of monuments stretches with the Basilica of Sant' Apollinare Nuovo, the Gothic quarter, consecrated to Catholic worship only around 550 more or less, of which the walls are completely covered with bright mosaics of classical Byzantine style. Many photographs of Ravenna often show the extraordinary images of marble decorations of the Basilica of San Vitale including the splendid mosaics in green and gold standing out from the presbytery and the apse. The basilica was built in 526.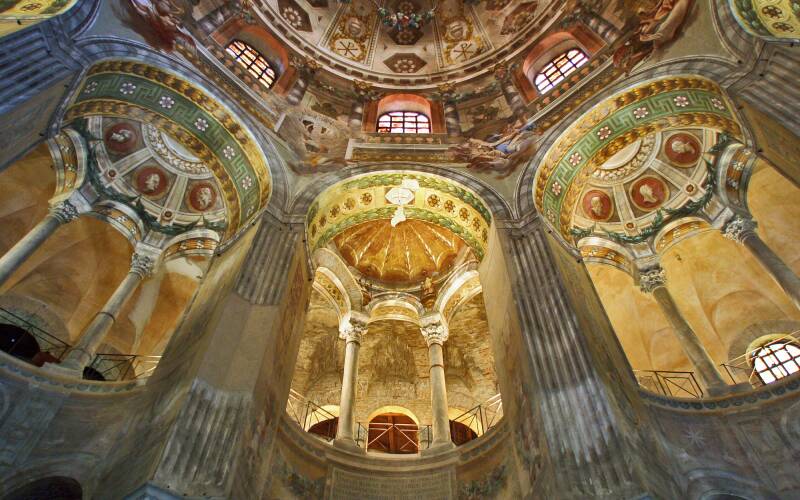 Ravenna reserves artistic and historical treasures outside its walls: Sant' Apollinare in Classe is known for the mosaic that depict the patron Saint of Ravenna immersed in a rural landscape.
These are monuments that in addition to the mosaic craftsmanship demonstrate what was a dense network of relationships between artist and religion.
Discover here Home in Italy's ultimate collection of the finest villas allowing you an easy access to iconic museums, archeological marvels and World Heritage Sites.

VILLAS YOU MAY LIKE
---
volavia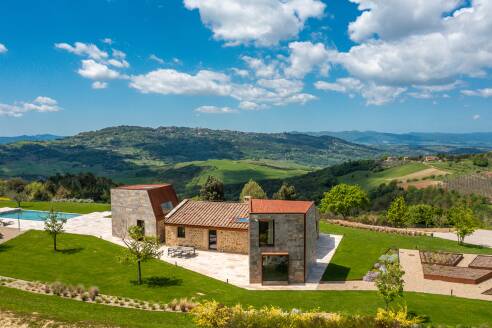 6
3
4
Tuscany, volterra
from
5,700
to
11,700
€ / week
---
villa altrove
14
7
8
lake Como, pognana lario
Price
On demand

---
velluto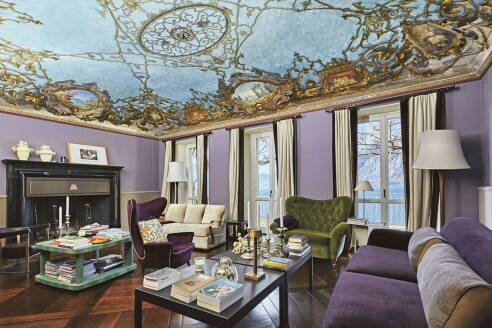 8
4
6
lake Como, bellano
Price
On demand

---
villa verbena
12
6
6
Tuscany, barberino di mugello
from
10,050
to
15,700
€ / week
---
leggera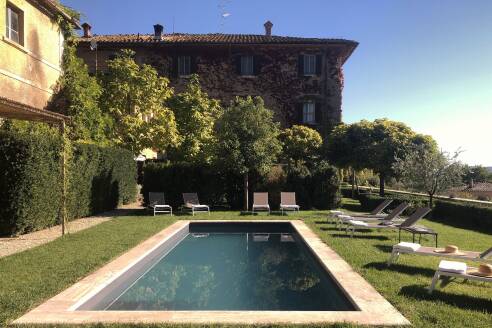 18
9
10
Tuscany, castellina in chianti
Price
On demand

---
riga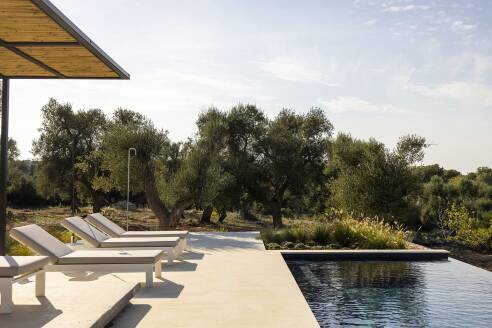 6
3
4
Puglia, ostuni
from
3,740
to
8,840
€ / week
---
sofi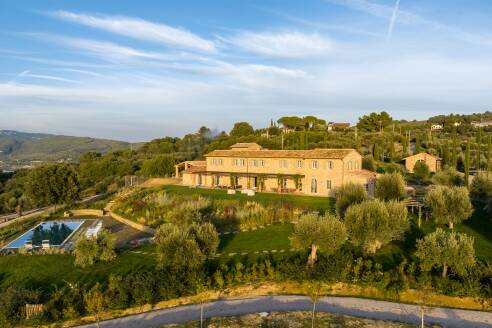 16
8
11
Umbria, Lake Trasimeno
35,000
€ / week
---
eclisse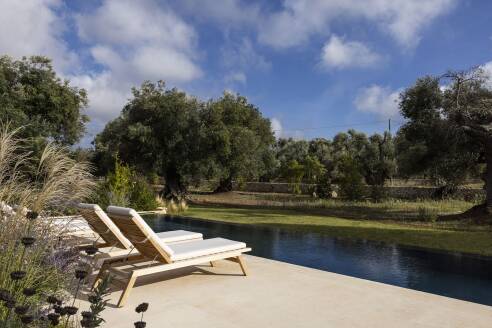 6
3
5
Puglia, ostuni
from
5,500
to
8,740
€ / week
---