Apr 17

2020
What to do in Portofino
Iconic place to visit if you plan to spend your holiday in Italy
---
Iconic place to visit if you plan to spend your holiday in Italy. In particular, if you are staying north of Tuscany, you will get there very easily; if you have planned to rent a villa in Lucca for example, you will take about 1 hour and 50 minutes by car.

Portofino is a small village that widens like a moon arch, a small seaside village on the Ligurian Riviera, protected by the greenery of the surrounding parks.
 Artists, famous people and writers have praised its praises and loved it very much through different historical periods: the best way to honor Portofino, splendid seaside resort, immersed in an ancient atmosphere, made of maritime traditions.
The little square, the meeting point of the international jet set, is the true symbol of Portofino. This very intimate square faces the marina, which vividly witnesses to the great maritime tradition of the place, together with the characteristic colored houses. A walk through the streets of the village, to visit the craft shops, is a must to fully enjoy the atmosphere. And right along the streets, you can meet the local women who still work the elegant lace of Flanders, with the ancient bobbin technique.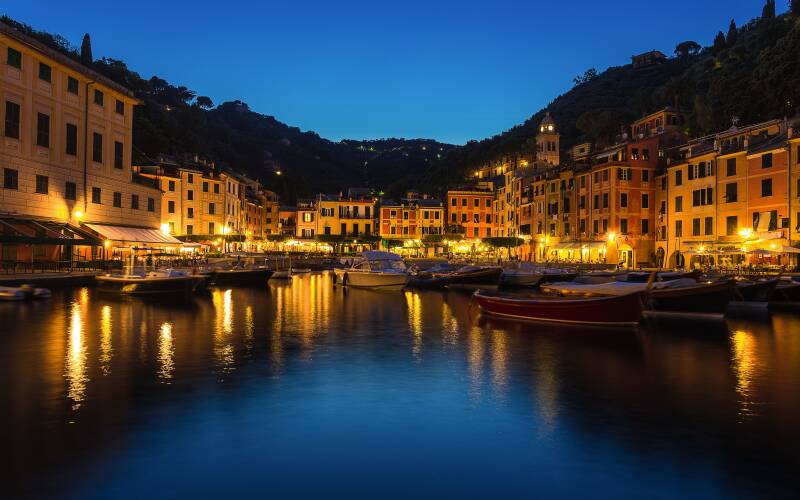 Portofino is an ideal destination in all periods of the year, even if this corner of paradise is appreciated most during summer when nature is luxuriant and the sea is warm.

Every year many visitors come to Portofino also thanks to many cultural and naturalistic itineraries, as well as the good Ligurian cuisine. Spectacular regattas, frequent events and nightlife, especially in summer, have made Portofino famous internationally.

There are various places of naturalistic and cultural interest to see: the Brown Castle, a fortress surrounded by a splendid hanging garden; the Church of St. George, construction of the XII century, where you can find the relics brought by sailors returning from the Crusades, and where you can enjoy a magnificent panorama from the churchyard. To admire the whole bay just go to Punta del Capo, where the lighthouse is located. For those who love trekking, an excursion on the Portofino mountain is a must.

After a boat trip in the Gulf of Tigullio, in direct contact with its beautiful sea, you can return to the square and choose a restaurant to savor the excellent cuisine based on fish.

Portofino is a good base point from which you can visit several interesting places on the Ligurian Riviera (both west and east).

Not to be missed: a trip to Genoa, which is only 30 km away, or to Cinque Terre which are about 50 km away, both Unesco World Heritage.

Absolutely to do: a trip to the suggestive medieval abbey of San Fruttuoso, a few kilometers away from the coast, surrounded by lush vegetation.
To spend your holiday near Portofino we recommend renting Villa Tigullio for a week.