Jul 2

2021
The best wineries in Umbria
Umbria is a land particularly suited to viniculture. Its moderate climate and gentle rolling hills that favor exposure to the sun, all contribute to making such excellent Umbrian wines, produced by the winegrowers of the region since ancient times.
---
In Umbria, four wine-roads have been identified that retrace evocative routes with particular reference to the places where the named products originate: 'Strada del Vino dei Colli del Trasimeno', close to Trasimeno Lake, 'del Cantico', from Assisi to Todi, 'del Sagrantino', in Montefalco and Bevagna area, 'Etrusco-Romana', from Orvieto to Amelia.

Wine delivery service
In case you are interested in having the best quality, Italian wine during your holiday, it is possible to send your request and have the wine delivered at your villa!

Please contact our concierge department so to direct you to our trusted professional sommelier.
He is a skilled wine expert and a great connoisseur of those brands which offer a superb quality/price deal, as well as the finest brands from every region of Italy.
 The delivery cost is included for orders starting from EUR 150,00 and in order to guarantee the availability of your requested wine, kindly send your order at least 2 weeks before your arrival date.
Tenuta Castelbuono, Bevagna (PG)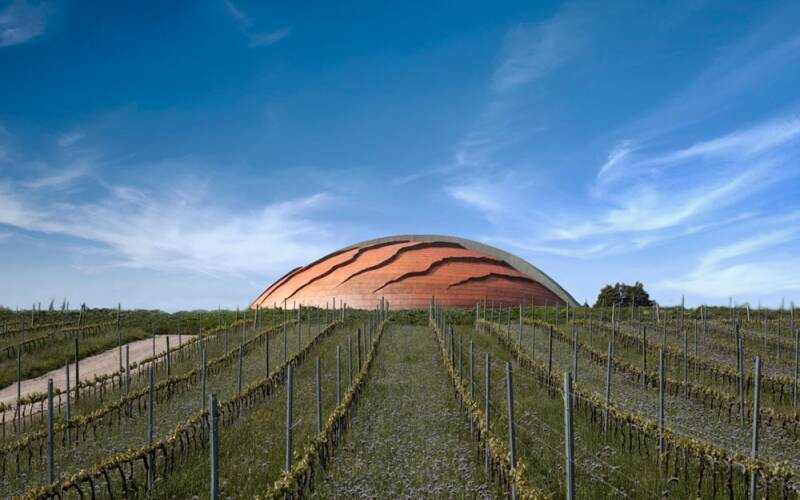 Tenuta Castelbuono, Bevagna (PG)

Tenuta Castelbuono is an estate with 30 hectares of vineyards in the communes of Bevagna and Montefalco. The Lunelli family purchased Tenuta Castelbuono in 2001 and their efforts were initially concentrated on the vineyards, which have now been converted to organic methods.
The "Carapace" building is the result of the Lunelli family's dream of having a winery that is also a treasure chest for wine. From the Lunellis' long-standing friendship with Arnaldo Pomodoro and their previous collaboration sprang the idea of suggesting that he – whose sculptures adorn important sites all over the world – should design the winery. Pomodoro enthusiastically accepted the challenge of creating a work that called into question the dividing lines between sculpture and architecture and which forged a dialogue both with the outside – the landscape in which it would be inserted – and with what would be inside: with the wine for whose production it had to be strictly functional.
"My work, therefore, didn't have to contrast with the gentleness of the hills on which the vineyards lie; indeed, it had to perfectly integrate with the environment. I had the idea of a shape that was reminiscent of a tortoise, a symbol of stability and longevity which, with its shell, represents the union between the land and the sky" (Arnaldo Pomodoro).
The result is an absolutely unique work of art: the first sculpture in the world in which it is possible to live and work; a place in which art and nature, sculpture and wine intermingle, thus highlighting the exceptional nature both of the container and its contents.
Address: Vocabolo Castellaccio 9, Bevagna (PG) - Tel +39 0742 361670



Tenuta Castelbuono, Bevagna (PG)
Azienda Agricola Palazzone, Rocca Ripesena (TR)
After restoration with respect for the noble architecture, "Palazzone" is now a boutique hotel with elegant suites.
At Palazzone we are surrounded by vines. Planted on the hillside between the Hermitage and Rocca Ripesena a stone's throw from Orvieto, between 210 and 340 meters above sea level.
24 hectares of vineyards in the hills, in a landscape of rare beauty, cultivated with the traditional grapes of Orvieto: Procanico and Grechetto primarily, then to complete the Verdello and Malvasia grapes. But also international varieties: Sauvignon for Muffa Nobilis and Viognier among the first to cultivate it in Italy.
And to completion of the wines produced, Sangiovese and Cabernet Sauvignon for the reds.
Address: Loc. Rocca Ripesena, 68 Orvieto (TR)– Tel. +39 0763 344921

Azienda Agricola Palazzone, Rocca Ripesena (TR)

Antonelli San Marco, Montefalco (PG)
Antonelli San Marco is a wine and farming estate which extends over an entire 170 hectares located centrally within Montefalco's DOCG winemaking area. With a background rich in history, the Antonelli family is passionately committed to caring for their territory and attentive to the quality of their products.
Address: Località S. Marco 60, Montefalco (PG) – Tel. +39 0742 379158

Antonelli San Marco, Montefalco (PG)

Arnaldo Caprai, Montefalco (PG)
Arnaldo Caprai is the acknowledged leader in the production of top quality Sagrantino di Montefalco, a wine produced exclusively from grapes of Sagrantino, the variety that has been growing in the region of Montefalco for more than four hundred years.
Address: Località Torre di Montefalco, Montefalco (PG) - Tel. +39 0742 378802

Arnaldo Caprai, Montefalco (PG)

Azienda Agricola Decugnano dei Barbi, Orvieto (TR)
The Decugnano dei Barbi winery is located in the Orvieto area, they produce their white Orvieto Classico and their red white.
Address: Località Fossatello 50, Orvieto – Tel. +39 0763 308255

Azienda Agricola Decugnano dei Barbi, Orvieto (TR)

Cantina Monte Vibiano, Mercatello (PG)
The first winery in the world to achieve in 2008 zero carbon dioxide emissions. Internationally certified sustainable winegrowing and centuries-old olive groves.
Ancient Roman wall built in 217 b.C., surrounding the stunning and precious Vigna Lorenzo.
Enjoy a unique experience: E-Bike Tour & Tasting
- Innovative CO2-free E-Bike Tour, immersed in the nature that surrounds the vineyards, exploring the pristine hills of Monte Vibiano;
- Cellar tour in the wine production and aging rooms;
- Tasting of the best Monte Vibiano wines on the splendid panoramic terrace, accompanied by the typical bruschetta, topped with the world-awarded unfiltered Extra-virgin Olive Oil and a cutting board of local delicacies.
Address: Vocabolo Bocca di Rigo, Mercatello (PG) - Tel +39 075 8783386
Website: https://montevibiano.it/en/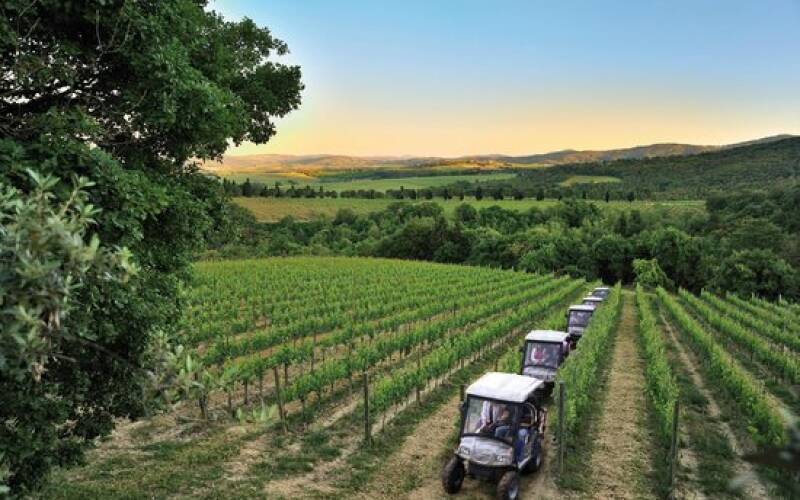 Cantina Monte Vibiano, Mercatello (PG)

VILLAS YOU MAY LIKE
---
polvere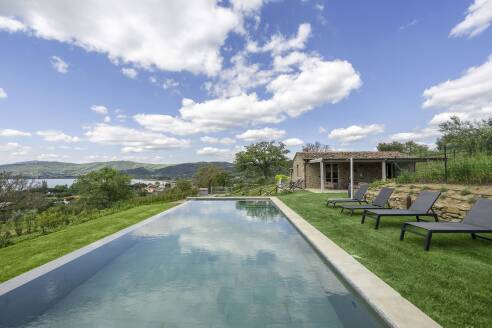 6/7
3
4
Umbria, Lake Trasimeno
from
5,100
to
7,250
€ / week
---
sofi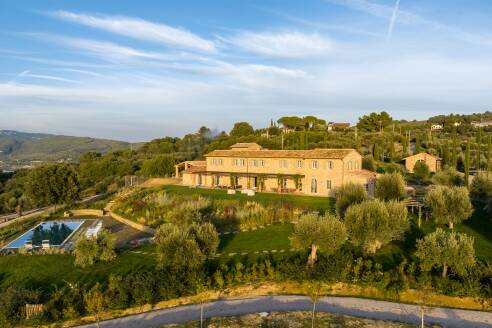 16
8
11
Umbria, Lake Trasimeno
from
28,750
to
35,000
€ / week
---
verdementa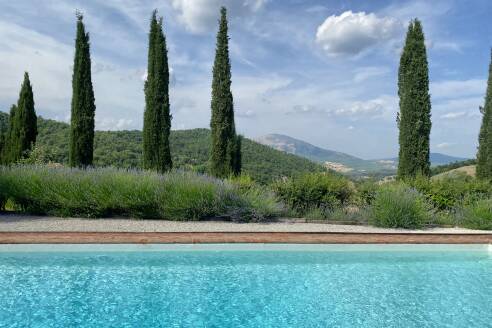 8/9
4
5
Umbria, San Giovanni Del Pantano
from
5,750
to
7,900
€ / week
---
villa mastino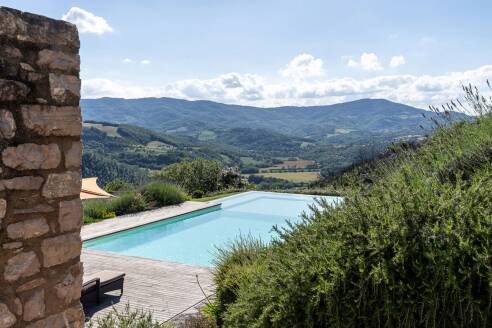 14
6
7
Umbria, Pierantonio
from
17,500
to
19,200
€ / week
---
fiordaliso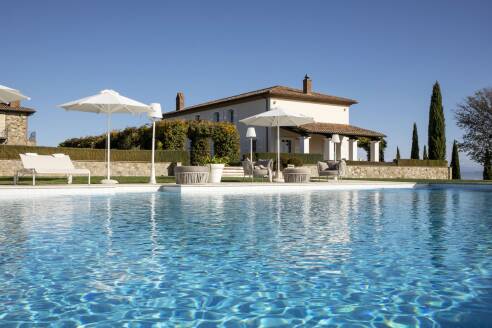 12
6
7
Umbria, San Venanzo
from
8,900
to
23,900
€ / week
---
nido zen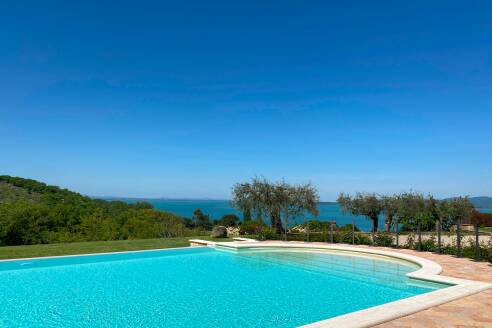 10
5
6
Umbria, Lake Trasimeno
from
10,450
to
15,550
€ / week
---
la bianca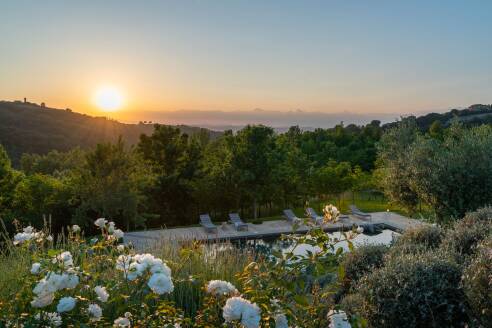 8/10
4
6
Umbria, Collazzone
from
6,700
to
8,200
€ / week
---
la sapienza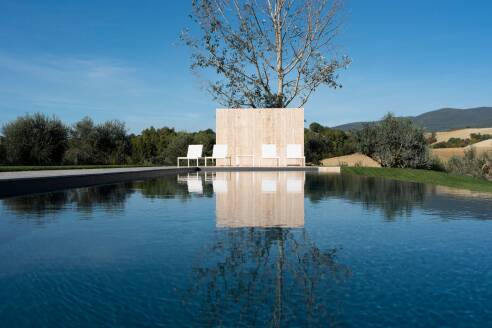 8
4
7
Umbria, Baschi
from
7,000
to
10,400
€ / week
---