Jul 27

2020
A road trip through Val d'Orcia
A road trip in Val d'Orcia is like a journey in Tuscany soul. Here you will find out a beautiful heartbreaking land, with gentle landscapes and wonderful villages all over the territory which create a unique place in the world.
---
A road trip in Val d'Orcia is like a journey in Tuscany's soul. Here you will find out a beautiful heartbreaking land, with gentle landscapes and wonderful villages all over the territory which create a unique place in the world.
UNESCO world heritage site since 2004, the territory includes places such as Pienza and Montalcino which are world important touristic spots. Several people choose this area of Tuscany to experiment with photography. There are a lot of points of interest to immortalize these places such as the Sant'Antino abbey, south of Montalcino, the road trough Pecorile, between Asciano and Pienza and Podere Belvedere in San Quirico d'Orcia.
Val D'orcia, thanks to its beautiful landscapes, has been the perfect location for famous movies such as "Gladiator".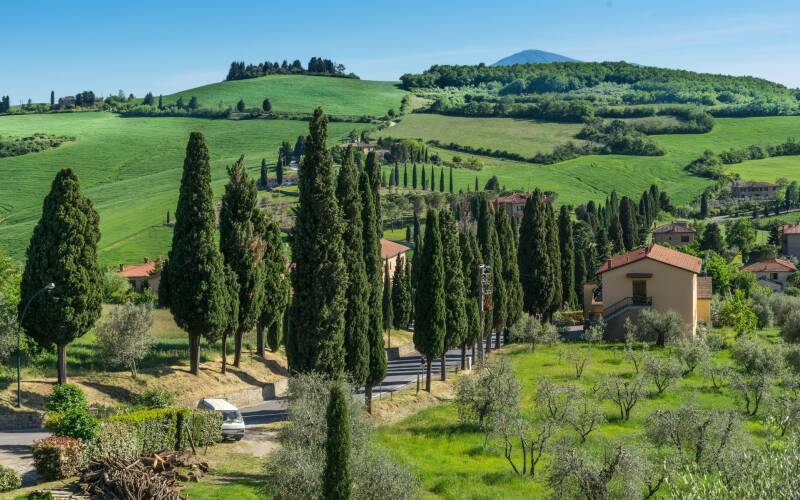 Some recommended places to visit:

Pienza, one of the most important villages, probably the largest, its pedestrian medieval historical center is rich of craft shops, typical restaurants (trattoria) and picturesque glimpses.
The belvedere offers a panoramic view from the old city walls of Monticchiello and beyond and it is very evocative especially during sunset. Recommended an aperitif looking at the sun going down. Piazza Pio II with its cathedral, vast and airy, is a really good place to stop and think.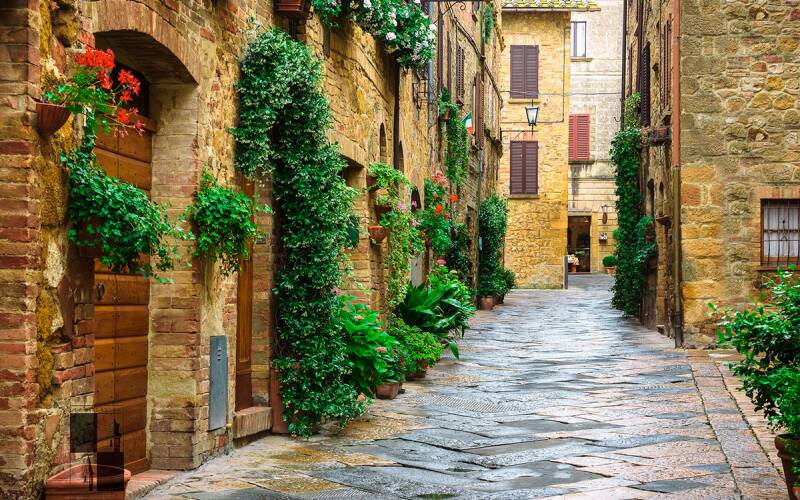 Bagno Vignoni, and its thermal springs have always been very appreciated and considered as a holiday resort since Etruscan and Roman ages. This presence is proved by the several archaeological places found. The main characteristic is a huge tank with hot thermal water dated to the sixteenth century, built in the major square of the village called "Piazza delle Sorgenti". Around the square, there are a lot of coffee shops and restaurants. From this point, it's possible to enjoy a beautiful view of the valley. Not far from here, there are the ancient Roman thermal baths, reachable by car or by foot.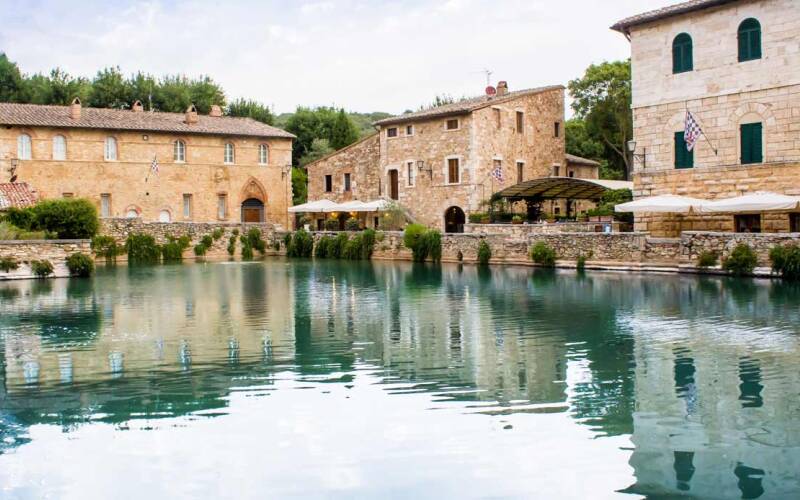 San Quirico d'Orcia
It is considered one of the most charming villages in Tuscany, San Quirino is smaller than Pienza but considerably bigger than Bagno Vignoni.
There to be discovered are the narrow secondary lanes that hide small restaurants covered by ivy with spectacular landscapes. Several restaurants can also be found in the main street which goes through the village till the mail cathedral with colored medieval houses.
As Bagno Vignoni, also San Quirino is near the ancient Via Francigena and its a fundamental stop if you decide to visit Val d'Orcia.
A relaxing walk through the invigorating Horti Leonini, manicured gardens behind the main street is one of the not-to-be-missed things to do.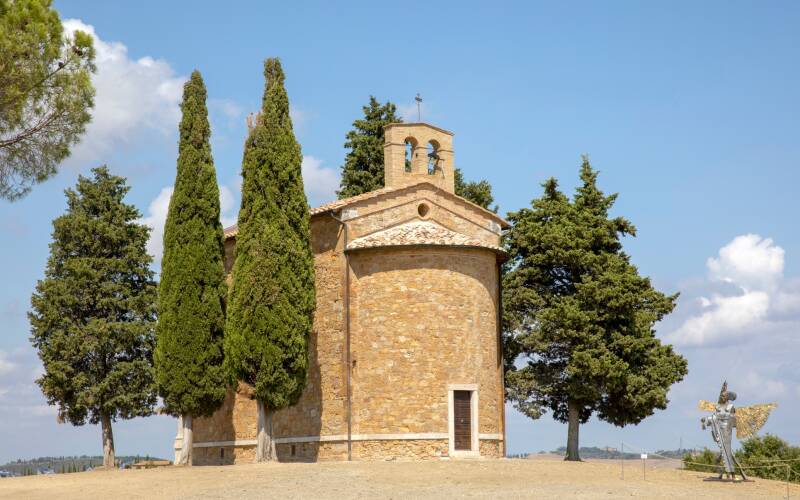 Ospedaletto
During the road trip through Val d'Orcia, going back to Pienza, we encountered a fortress.
It's an ancient building, once used as shelter and resting place by wayfarers and pilgrims, today it is designated for luxury agritourism nestled in the countryside of Siena.
The courtyard and its beauty can be visited.
 
Bagni San Filippo
It's well-known for its thermal center where it's possible to find hotels with a private spa. Directly from the village, you can reach the thermal spring Fosso Bianco, surrounded by the woods.
You will find very particular limestone conformations, huge ones as the "Balena Bianca" and small ones as a whirlpool tub. The smell is characteristic of the sulfur water.
Being a famous area means a big crowd during weekends or holiday periods. The visit is recommended during the working days or far from spring break.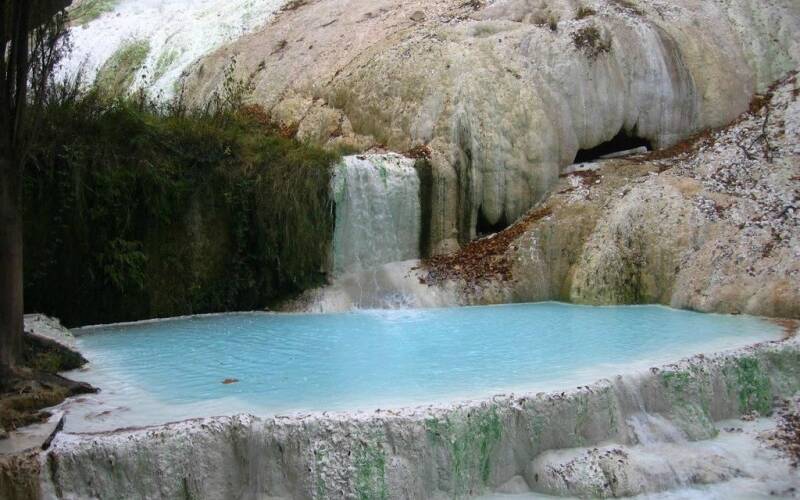 Castiglioncello del Trinoro
This small hamlet, completely surrounded by the countryside of Siena, is higher than the other villages and offers a spectacular open view for kilometers. That's why it's called "Balcone sulla Val d'Orcia" (the terrace over Val d'Orcia).
Reachable by a gravel road, it's is recommended to choose a sunny day in order to fully enjoy the view. The village is very small but incredibly delightful.

Montichiello
Montichiello deserves to be visited during your road trip in Val d'Orcia. It offers a beautiful view of Pienza because they are very close. If you are looking for some very good restaurants, that's the place. It's a small village but really nice. Explore it and enjoy an aperitif on the panoramic terrace.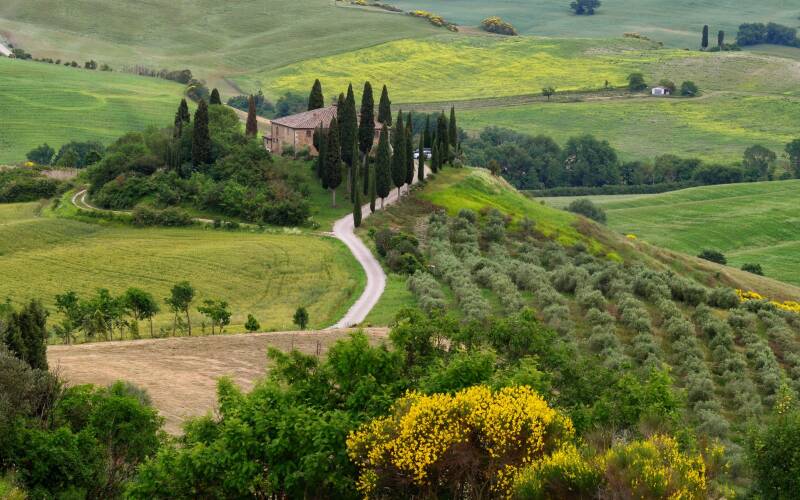 Radicofani
It's a small village at a height of 800 meters above the sea level at the south of Pienza, along the road to Pitigliano. Another stop during the road trip.
Enchanting view, the village is built with dark basaltic stone, a different characteristic from all the other places. The true protagonist is Rocca di Radicofani (the fortress) at a height of 900 meters above the sea level, reachable by steps.
The fortress is evident also from the road below, because of its strategic position on the top over the rock. The fortress is the perfect place for interesting events also for children and historical re-enactment of the storming of the fortress, medieval arts and crafts with archers and flag wavers. In Radicofani you can also find a restaurant.
 
 Visit our collection of luxury villas for rent in Val d'Orcia and start planning your authentic Tuscan holiday.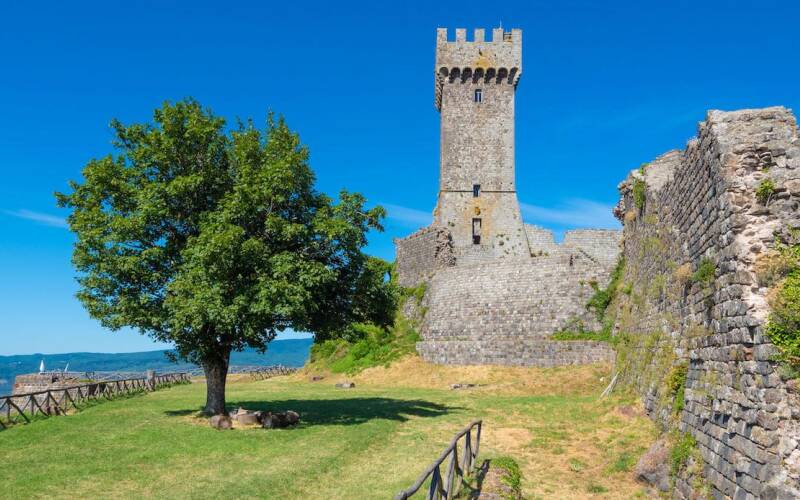 VILLAS YOU MAY LIKE
---
pallade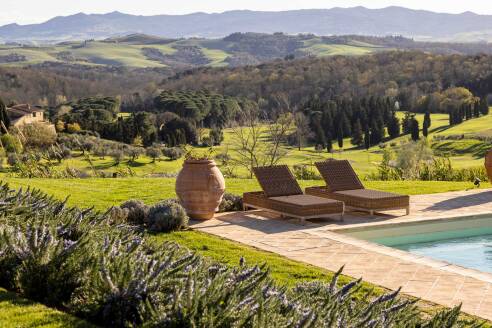 14
7
5
Tuscany, Castelfalfi
Price
On demand

---
villa perline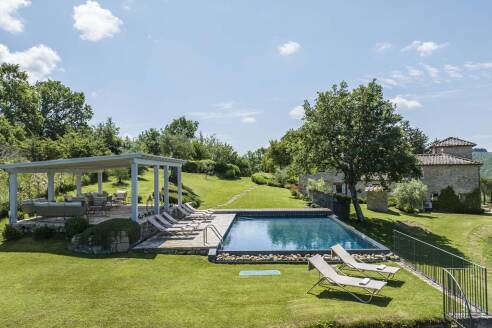 10 • 14
7
8
Tuscany, Gaiole In Chianti
Price
On demand

---
badia
16/22
8
9
Tuscany, Casole D'Elsa
from
30,000
to
64,800
€ / week
---
ottavia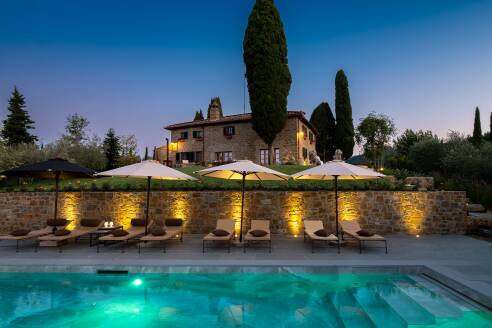 8/10
4
5
Tuscany, Gaiole In Chianti
from
13,500
to
16,900
€ / week
---
nuvole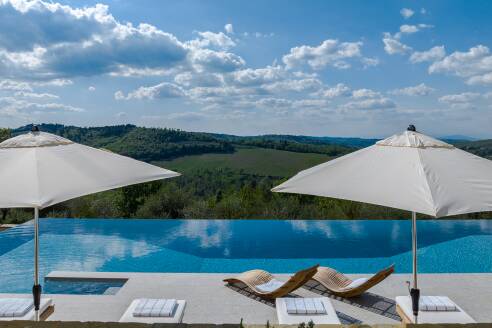 14
7
9
Tuscany, Panzano In Chianti
from
30,000
to
37,000
€ / week
---
villa lino
10/12
5
7
Tuscany, Tavernelle Val Di Pesa
from
25,000
to
27,500
€ / week
---
villa magenta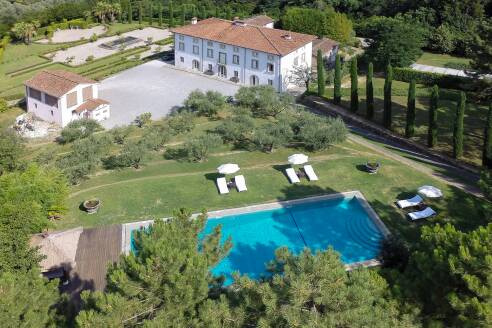 14
7
8
Tuscany, Capannori
from
18,500
to
26,650
€ / week
---
bacca nera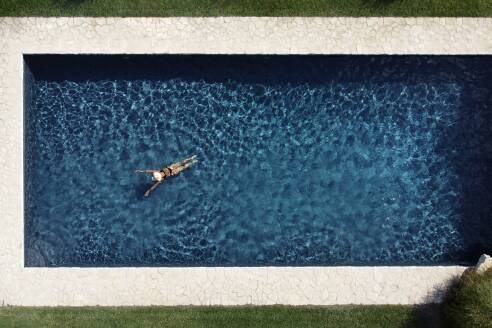 19
10
11
Tuscany, Castellina In Chianti
from
44,100
to
56,000
€ / week
---