Nov 15

2022
The A-list of design wineries in Tuscany
With our new weekly issue, discover stunning chateaux designed in harmony with nature and built with state-of-the-art technologies. Beyond the classic definition of wineries, these pieces of art are real wine temples thought for high-end visits and gourmet tastings. Let us guide you through our hand-selected and curated portfolio of artistic wineries and luxury villas for discerning travellers and wine lovers. Whether as a casual enthusiast or as an experienced collector, a visit to these magnificent buildings is a must-do on your Italian travel bucket list.
---
A luxury fusion of art and taste.
 The great diversity of wines and the indigenous grape varieties have turned Tuscany into a top winemaking region in the whole world with a prestigious collection of fine wines. In this bucolic land surrounded by vineyards, the wine route is also an architectural trail due to the contribution of architects who have signed countless projects since the 90s. Be ready to admire the most spectacular Tuscan architectonic wineries designed by the world's greatest artists of contemporary architecture.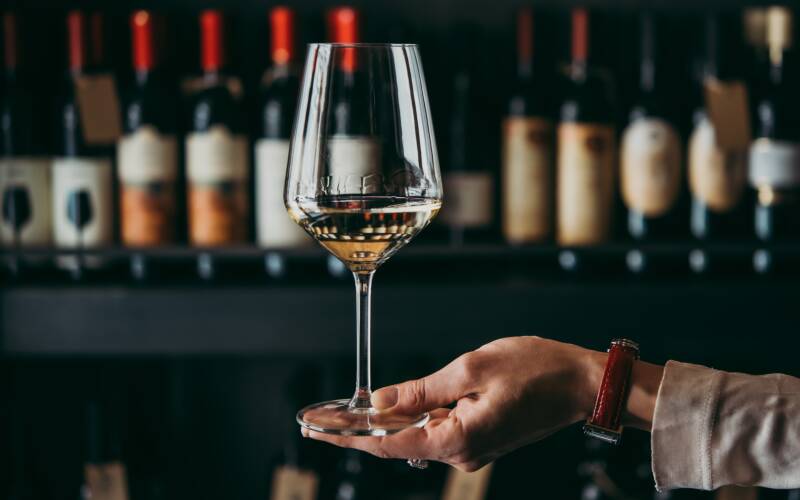 Tenuta Ammiraglia. Maremma, Magliano in Toscana, Grosseto
 Lately, several wine producers have built cellars deep underground as temperatures are better monitored in such conditions. At Tenuta Ammiraglia, it looks as if the architect Piero Sartogo raised a strip of land to open a thin and long slit in the natural slope of the earth. For over seven centuries, Marchesi de 'Frescobaldi has been the symbol of wine production in Tuscany. Suffice it to say that their wines filled the glasses of the greatest Renaissance artists such as Donatello, and reached the tables of the Papal Court of Leo X and King of England Henry VIII. Tenuta Ammiraglia is open to visits and tastings and it is also possible to organize lunches, aperitifs and events upon reservation.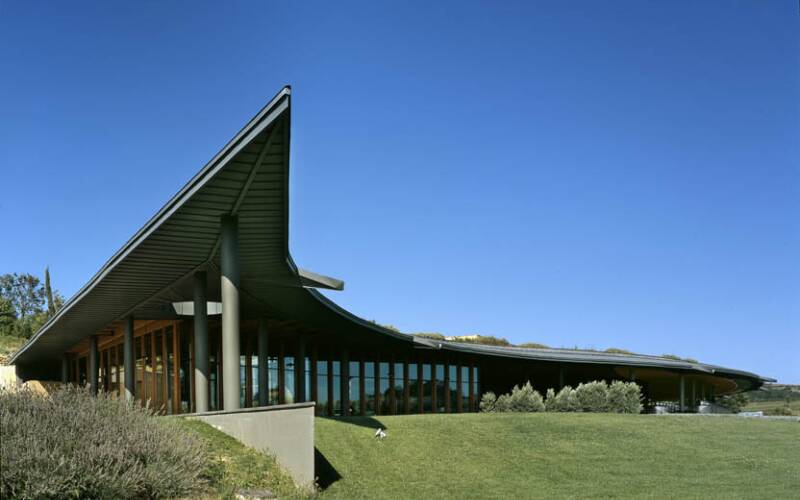 Monte Oro, Magliano
 up to 19 sleeps, from €82.500 per week. For rental information, click here
Antinori. Chianti Classico, San Casciano Val di Pesa, Florence
  Hidden among olive trees, woods and vineyards, the winery immediately stands out as one of the most interesting industrial design projects in the world. The official "Building of the Year" award is also due to the low environmental impact and high energy savings distinguishing the project. Natural materials such as terracotta, wood and corten give life to the cellar, strongly rooted in this natural environment the earth and fully respectful of this area. At this winery, tradition and innovation coexist harmoniously, superbly telling the past, present and future of the founding family Antinori.


  Salice, Castellina in Chianti
 up to 22 sleeps, from €12.600 per week. For rental information, click here
Castello di Fonterutoli. Chianti, Castellina in Chianti, Siena
 According to Decanter's consultant editor Steven Spurrier: "it is the most impressive winery in the whole area of Chianti". This is the new building of Castle of Fonterutoli, the work of the architect Agnese Mazzei, who has already designed other enological edifices including the Sassicaia barrel cellar. The cellar has a low environmental impact and is spread over three floors. The heart of the cellar is definitely the underground level where 3500 barriques rest among spectacular exposed rocks that look like a painting.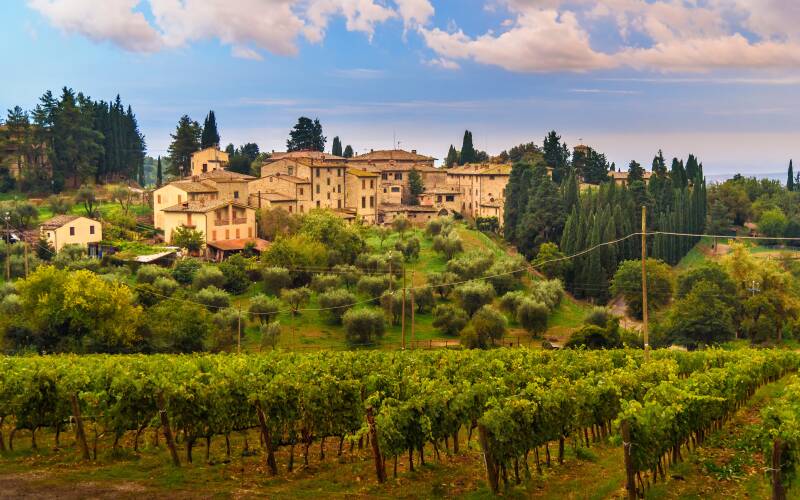 Castelio, Gaiole in Chianti
 up to 14 sleeps, from €11.450 per week. For rental information, click here
 Cantina di Montalcino, Siena
 This exclusive winery is the only wine-making cooperative producing one of the greatest Italian red wines: Brunello di Montalcino. The guidelines of this project were conceived by the architect Tommaso Giannelli who carried out the renovation attentively respecting the environment and tradition. The cellar is located partially underground and the electricity is produced by photovoltaic systems.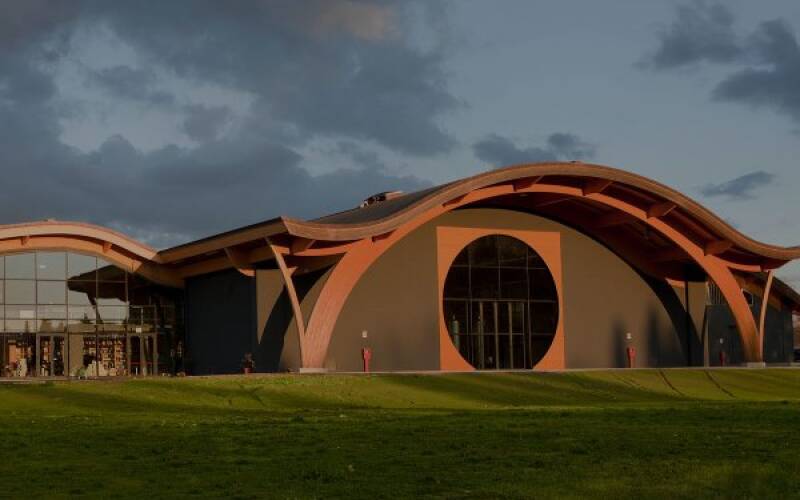 Cortese, Buonconvento
 sleeps 10, from €9.600 per week. For rental information, click here
Il Borro. San Giustino Valdarno, Arezzo
 Immersed in an area rich in art and culture located between Florence, Arezzo and Siena, Il Borro represents a wide-open window on history. The origins of the borgo of Il Borro date back to the Tuscan Middle Ages. The Medici, the Savoys, and nowadays the haute couture family represented by Ferruccio Ferragamo and his sons have safeguarded its preciousness, keeping its charm intact and transforming the estate into an oasis strongly dedicated to respecting the environment. The estate covers an area of 1100 hectares, 85 of which are dedicated to viticulture. After a meticulous and conservative restoration of the medieval borgo, the nineteenth-century villa and the centuries-old cellar, Il Borro is today a luxury travel destination. The new cellar was designed by architect Elio Lazzarini and is perfectly harmonized with the existing structures.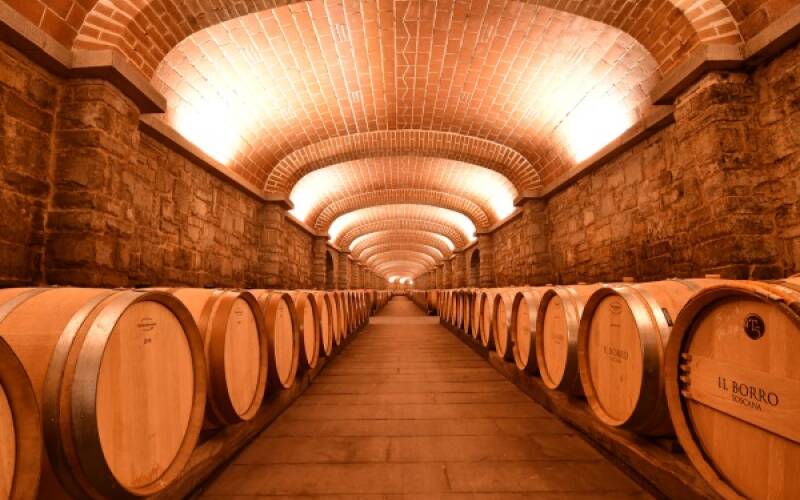 Villa Mirra, Reggello
 sleeps 10, from €12.750 per week. For rental information, click here

Salcheto. Montepulciano, Siena
 In this organic and biodynamic winery, wines are mainly produced with the symbolic vine of Tuscany: Sangiovese, without added sulphites and with autochthonous yeasts. Salcheto is a winery rooted in the Vino Nobile district whose name derives from the stream that originates at the foot of Montepulciano. The stream flows in a valley that was once adorned with willows, while the branches of these trees were used to tie vines.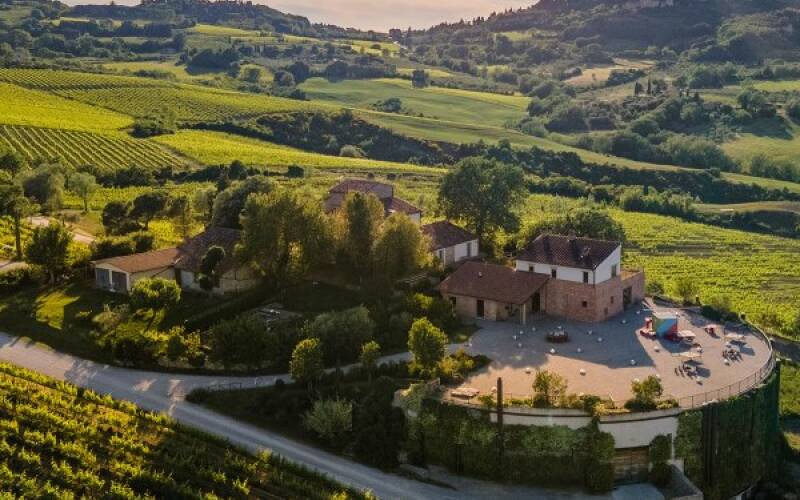 Saracino, Sarteano
 up to 15 sleeps, from €9.600 per week. For rental information, click here

 Faggeto, Radicofani
 sleeps 17, from €9.800 per week. For rental information, click here
Under the Tuscan sun, wine lovers here we come!
 Get in touch with us and enlist the advice of our trusted team of travel experience coordinators with the sharpest attention to detail. Craft a holiday you will talk about for years to come. It all starts from here with Home in Italy!
VILLAS YOU MAY LIKE
---
nuvole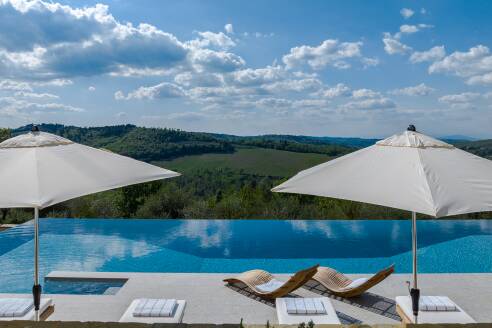 14
7
9
Tuscany, panzano in chianti
from
30,000
to
37,000
€ / week
---
villa lino
10/12
5
7
Tuscany, tavarnelle val di pesa
from
25,000
to
27,500
€ / week
---
villa magenta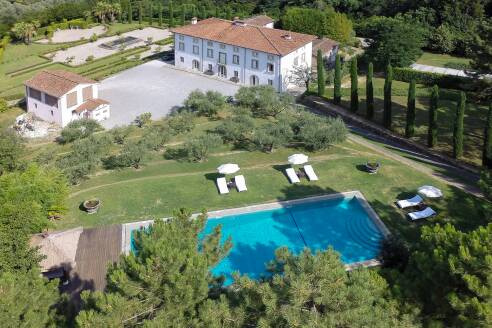 14
7
8
Tuscany, capannori
from
22,900
to
24,800
€ / week
---
bacca nera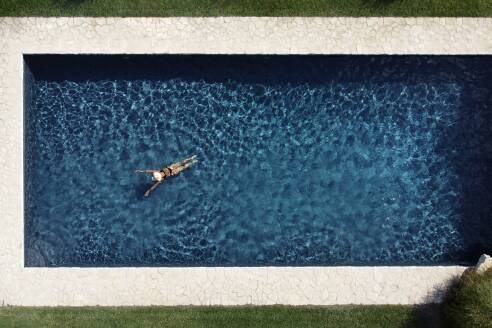 19
10
11
Tuscany, castellina in chianti
from
44,100
to
56,000
€ / week
---
villa tosca
18
9
16
Tuscany, empoli
70,000
€ / week
---
volavia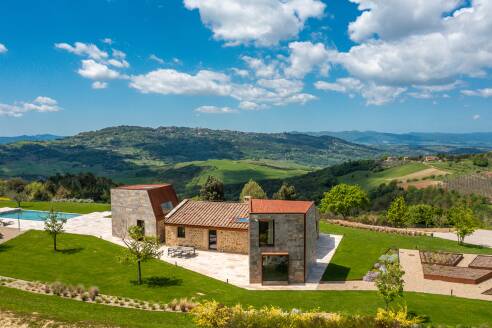 6
3
4
Tuscany, volterra
from
5,700
to
11,700
€ / week
---
villa verbena
12
6
6
Tuscany, barberino di mugello
from
10,800
to
17,950
€ / week
---
leggera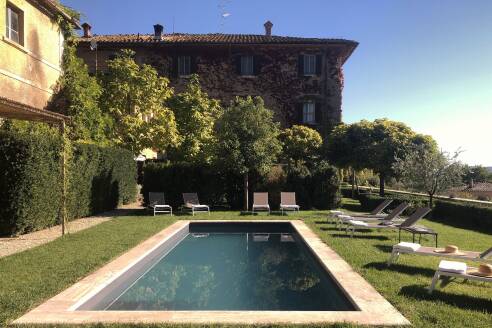 18
9
10
Tuscany, castellina in chianti
27,000
€ / week
---